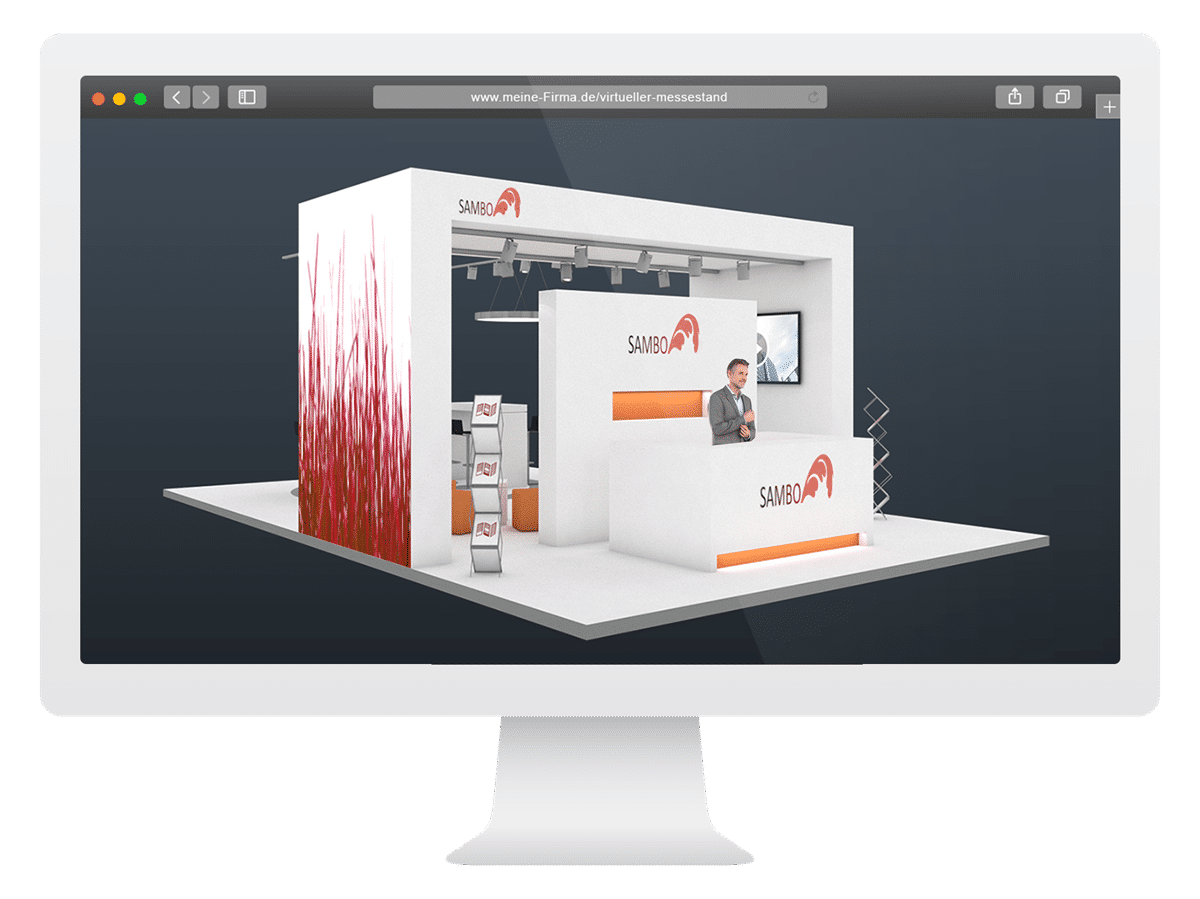 Bringing your own company appearance up to date with the latest technology, but how? A virtual booth!
---
A virtual booth brings you the power of a physical trade fair to your website! With this step-by-step guide, you will get a unique web presence that will increase the engagement of your website visitors and increase sales.
Define the design of the virtual exhibition stand or have a custom model created.
You can quickly and easily select a virtual exhibition stand from a large selection of designs and sizes and then configure it.
Alternatively, a custom design can be created on request.
Then you can configure the exhibition stand quickly and easily using the intuitive 3D configurator:

Assign colors. Simply store the colors of your corporate design.
Choose the flooring.
Upload your own company logo or several. And it is already applied to the corresponding surfaces.
Upload or create media in the CMS. Whether images, texts, videos, PDFs etc. External links are of course also possible.

Of course, a virtual trade fair stand also requires "stand personnel" for direct contact. For the contact, the contact persons with the corresponding communication channels are defined. This can be any number of contact persons or just one. The following communication channels are available:

Appointment booking tool: Easily provide slots and be notified by email.
Text chat: Either with push notification or by email after 5 minutes without response.
Phone: Enter your phone number and you can be reached.
Video chat: Super flexible – store the preferred video chat solution as a link.
Business card exchange: Exchange the digital business card with one click and conveniently download the lead list.

Then you generate the publication link. This can be quickly and easily integrated as an iFrame on your own website.
Advantages:
Simplest configuration.
Administerable and changeable at any time.
Easy integration on the website.
More information about your own virtual booth can be found here or book it here today.
---
Maybe also interesting for you: Our article on the hybrid event