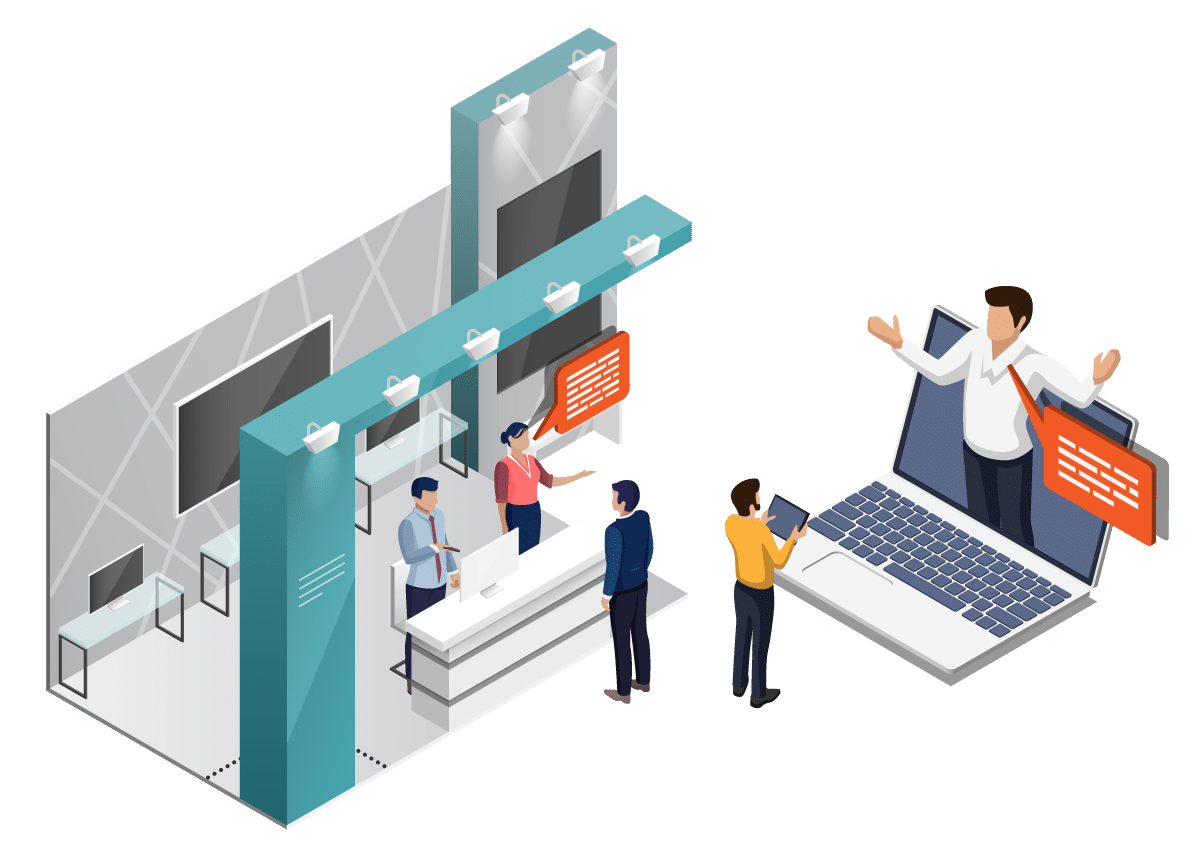 Event Planning of the Future: Hybrid Events
We have currently observed the first changes in the event landscape due to the corona pandemic. Here we inform you why these developments make adjustments to the planning of your event seem absolutely necessary. Because the future is the hybrid event or the hybrid event.

We explain these topics in the following article:
Changes in the event world
What is the difference between face-to-face and hybrid events?
What are the advantages of hybrid events?
Current trends
Where is the event strategy going?
Economic advantages of hybrid events
Environmental benefits
What are the consequences?
---
1. Changes in the event world
The event world is currently affected by a number of changes: digital trends in knowledge transfer, changes in event formats, adaptation to reduced exhibitor and visitor numbers. Many events have already adapted to the changed framework conditions. Other formats will have to adapt to this and deal with the topic of "hybrid events".

2. What is the difference between face-to-face and hybrid events?
Many companies and organizations are already planning the upcoming time – and hybrid events are an element they will soon have to pay attention to.
A hybrid event is an event that can be both physical and digital. The difference between a hybrid event and a classic event is that the physical presence of a hybrid event is also digitized, while the digital presence of a hybrid event can also include physical elements.
Event content, such as exhibition and knowledge transfer, can also be implemented in different formats for hybrid events.

3. What are the advantages of hybrid events?
Hybrid events have many advantages that you should not miss as an organizer.
It's time to change the event mode of traditional and digital events. Many organizers today opt for hybrid events to increase attendance, increase engagement, and provide additional incentives.
Hybrid events offer several advantages that you as an organizer should not miss:
You will receive enough time for preparation and follow-up
You still benefit from the advantages of classic conference formats
They open up additional visitors and exhibitors
You benefit from new ideas and reach new target groups
You get more interaction

4. Current trends for a hybrid event
Hybrid events have arrived in recent years and benefit from the change in business models and the realization that the media world offers new opportunities for events. Many events this year are following the trend towards a mixture of online and offline environment, show and conference, live and livestream.
Hybrid events are the optimal solution for organizers who not only want to maintain the status quo in marketing, but are looking for new strategies to be more innovative and sustainable.

5. Where is the event strategy going?
Hybrid events are the future – at least when it comes to concepts. At the decisive events of the future, the solution approach for the customer comes to the fore, not the event itself. Today's top organizers are those who already know where the party is going and anticipate what digital marketing means for their format.
Thanks to digitization, organizers now have more marketing tools at their disposal to reach visitors in their events. The event strategy is under pressure from increasing competition. The new challenge is to reach, attract, retain and retain visitors for exhibitors or lecturers.

6. Economic advantages of hybrid events
The digitization of the event world has made a huge leap forward in recent years: Today, potential event participants can easily and conveniently buy tickets for the event, retrieve information or watch streams of the event via their smartphone or tablet. So you always have the latest results and ongoing updates about the event in your pocket.
But the possibilities that digitization offers for events go even further! Because now you can – with a hybrid event – welcome participants from all over the world. There are no more hurdles to overcome due to time and money to attract international guests.

7. Environmental benefits for hybrid events
The digital age has completely changed the global economy. Organizers of hybrid events now understand how important it is to incorporate innovative ideas into their events. To meet these requirements, they also need to rethink the environmental aspects of their events. In times of climate change and increasing resource consumption, organizers are concerned with the correct handling of the diverse planning options of events. The world depends on a new digital infrastructure. Our development in recent years has not only meant that we are reaching for distant sources of our food, furniture and building materials, but also that the everyday experience of the event experience is shifting towards virtual reality and e-commerce. We have reached a point where we need to draw on our past experience and think seriously about the future of events, event planning and event development.

8. What are the consequences for a hybrid event?
Hybrid events – i.e. events that have both online and offline components – are in vogue. But what do they actually mean for the team that organizes such an event or for agencies that manage such events? More and more organisers are opting for a combination of online and offline events.
The biggest challenge in the combination is the communication and consideration of which elements are displayed in which format. In order to master this challenge, a meaningful analysis of the future needs and added value that can be presented to the participants is required.

---
On Fairsnext, the platform for virtual and hybrid events, competencies for presence and digital as well as for online and offline can be bundled.
Are you curious about a platform for hybrid events?
Would you like to know more about our solution? We would be happy to show you how this works in a 30-minute online demo. Just make an appointment: